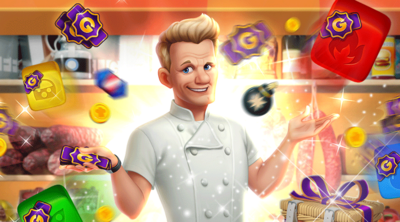 Outplay Entertainment & Gordon Ramsay Announces €
Players of Gordon Ramsay's Chef Blast can enjoy a series of tantalising upcoming in-game events this summer
DUNDEE, SCOTLAND – 14th July 2022 – Outplay Entertainment, the largest independent mobile game developer in the UK, has announced a series of upcoming in-game events set to be released this summer for its culinary mobile puzzle game, Gordon Ramsay's Chef Blast.
The 'Summer of Chef Blast' begins 15th July, running through to the end of September, and will comprise of four separate in-game events released on different dates throughout this summer.
Due to release on 15th July, Market Day is the first event launching. Market Day will task players with collecting tokens by playing levels, which can then be redeemed to purchase in-game boosts, coins and kitchen makeover items.
Releasing on 22nd July, the 'Hot Stove League' will introduce a new in-game show, where players will star as the contestants and complete a series of levels in as few attempts as possible to win Hot Stove Medals. The fewer attempts, the more Hot Stove medals they win, rising up the leaderboard and winning exclusive in-game prizes.
On 19th August, players will launch a baking business under Gordon Ramsay's watchful eye in Baking Bingo. To fulfil customer orders, players will need to complete levels and collect tickets in order to spin a bingo wheel that will give them numbers allocated to cupcakes. Players can win prizes by placing their cupcakes in lines as they normally would in bingo.
The final event will launch in September. Inspired by Gordon Ramsay's travel shows, players will be invited by Ramsay to travel the world, learning different recipes along the way, by playing limited time side-map events. Players will travel to locations such as Italy and Japan, each with distinct gameplay mechanics to conquer in order to succeed.
Douglas Hare, CEO of Outplay Entertainment, said: "These upcoming in-game events are sure to shake up the regular formula of the game, giving returning players even more to enjoy this summer. Adding these in-game events to Chef Blast will provide our players with an even richer experience, giving them even more at their fingertips to enjoy."
Also new to Chef Blast comes the very first in-app purchase cosmetic, a limited edition Gordon Ramsay bobble-head for players to decorate their kitchen counters with, available from July 7th.
Gordon Ramsay's Chef Blast is Outplay Entertainment's acclaimed title featuring the Culinary Genius™ himself. Released in January 2021, downloaded more than 3.5million times and nominated for best casual game at the TIGA Games Awards 2021, players can blast their way through the puzzle game by tapping and matching cubes to win levels and unlock some of Gordon's most impressive recipes.
Gordon Ramsay's Chef Blast is free and available to download now on iOS, Android, and Amazon devices:
● Apple App Store: https://apps.apple.com/be/app/gordon-ramsay-chef-blast/id1515755905
● Google Play Store: https://play.google.com/store/apps/details?id=com.outplayentertainment.chefblast&hl=en_GB&gl=US
● Amazon App Store: https://www.amazon.co.uk/Outplay-Entertainment-Ltd-Gordon-Ramsay/dp/B09BDG8YQB/