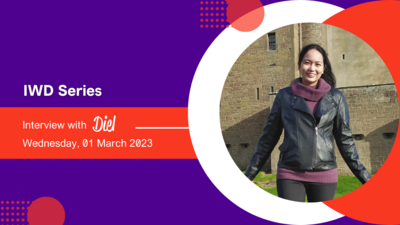 International Women's Day Blog - Diel Barnes
1. Tell us about your pathway into the games industry?
Ever since I had my first programming class in high school, I already knew what I wanted to do in life. I love programming because of the fulfilment I get from logical thinking and problem solving, so I took up computer science at university. For the first couple of years in my career, I worked as an iOS engineer. I developed various apps including social media, finance, and enterprise apps. Mobile development is a fun and innovative field, but deep inside I have always wanted to try making games as I have enjoyed playing them since I was little. I decided to study game development for my Masters and had been fortunate to land my first job in the games industry at Outplay.
2. What is your role at Outplay? and tell us what your day-to-day is like.
I'm a senior engineer. Usually I work on adding features, fixing bugs, and improving the performance of our games. In my previous project I was also responsible for our releases, making sure everything that needs to go in the build gets done and included. It's highly collaborative so I often work closely with artists, designers, and QA.
3. What do you enjoy the most about working in the Games Industry?
Learning how the games I play work behind the screen! After getting into game development, I'm suddenly noticing little things that used to just blend in the background when I play—lighting, reflection, etc.—and have become more appreciative of them now that I know the process it takes to produce them.
Knowing the games I was part of are being enjoyed by many players is also rewarding, especially seeing it first hand when I discovered over the holidays last year that my niece actually plays Angry Birds POP!
4. What challenges have you faced in your career, and how were you supported or how did you overcome them?
There was a learning curve in switching technologies from developing regular apps to developing games. With more systems interacting with each other, it has a bigger codebase, has more complexity and requires more math, which I'm not really fond of 😅. Luckily I got the support I needed from my peers and from online resources. I also strived to expose myself to different areas of our games as much as I can. By being adaptable and willing to learn, I was able to grow professionally.
5. What initiatives do you feel best support women in their careers?
Women in Games seems the most evident, but BAFTA has also been putting women from various sectors in the entertainment industry in the spotlight through events. Occasionally they would host games sessions. I had the opportunity to take part in a panel discussion of a BAFTA webinar focused on navigating one's career in the games industry. They were keen to have female panellists working in a typically male role on board.
Initiatives coming from game companies themselves like this blog are also reassuring for those aspiring to get into the industry or grow their careers. I believe having transparency about company values and women's experience in the workplace is important.
6. What do you enjoy the most about working at Outplay?
The people are just lovely and full of talent! I admire the creativity that gets poured into our games.
This company also has strong values. It's a safe and inclusive environment despite being male dominated. I don't even notice the gender difference on my day-to-day to be honest as my peers treat me just like every other engineer, and my efforts are recognised just the same.
7. What have been some of your career highlights?
From my previous role, building multiple iOS apps from ground up and successfully delivering them to various clients
Leading the development of Crafty Candy for around two years
In general, seeing new features that I developed go live and have positive impacts on the game
8 What are you most looking forward to in 2023?
The game I'm currently working on is due to launch this year so I'm definitely looking forward to that!
I missed Outplay's summer event last year so I'm also looking forward to what they will organise this year, along with other social events.
9. What is a piece of advice you would give women thinking about joining the games industry?
Don't be afraid to pursue your passion in games, there are many career paths you can take. Try to be observant to the games you play—take note of what has and hasn't been done well. Relating to the player experience helps improve your skills naturally, no matter which role you are in. Also stay up to date with the latest trends and technologies. For engineers, try your hand on different game engines and build your portfolio.