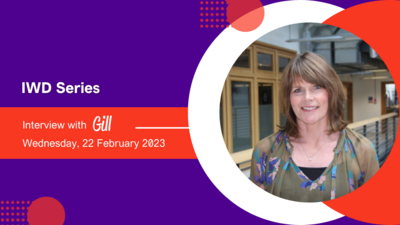 International Women's Day Blog - Gill Gray
1. Tell us about your pathway into the games industry?
I have a Finance background and worked for 17 years in a large professional services organisation, specialising in Corporate Finance. When I left, I decided I wanted to get my sleeves rolled up and work as a part of the management teams shaping their businesses, rather than advising from the outside, and worked for several businesses in the tech sector. I got a real buzz out of working with early-stage tech companies, helping to shape strategy and raise growth finance. I must admit I didn't go searching for a role in the games sector 11 years ago, but I was introduced to Outplay and was hooked by the exciting potential of mobile games as a super high growth sector back then, as well as the vision of the founders of Outplay.
2. What is your role at Outplay? and tell us what your day-to-day is like.
My role is CFO (Chief Financial Officer) but I think the title is a little misleading as my day to day role covers several aspects of the business beyond finance.As well as leading the Finance Team, and being part of the Executive Team, I focus on commercial growth across the games portfolio, which involves collaborating with the Production, Analytics and Insights, Product Management and Marketing teams to drive the Company's growth goals. It's never dull and I'm constantly learning.
3. What do you enjoy the most about working in the Games Industry?
Whilst I am obviously a numbers and data person, I love the fact that I get to work alongside such diverse talent and get to see what makes a great mobile game "under the hood". Some Finance roles are quite back office – my role is far from that, and I feel very lucky to have found such a fulfilling role. The passion and pride of our people in the games we make is infectious. We make games which stand out in terms of quality and keep players entertained for many years. This requires a lot of focus on commercial potential both during development, and once launched. I love the fact that despite my lack of creative talent, I get to contribute to our games' success, working with our Product Management and Analytics & Insights Teams.
4. What challenges have you faced in your career, and how were you supported or how did you overcome them?
I have always worked in male dominated sectors. When I first started my career, whilst I didn't experience any direct discrimination against women, due to a lack of flexible working practices and client demands, it was more challenging for women to sustain their career trajectory and have a family. I had to look for ways to continue to progress, whilst trying to be a good mother to our two daughters. That was challenging. Eventually, I took control and set up my own consultancy which allowed me to implement my own flexible working policy! I'm really pleased with the good progress that been made to support working parents since those days.
My daughters are now at the early stages of their careers, and I hope that I am a good role model for them.
5. What initiatives do you feel best support women in their careers?
I think Women in Games is a great forum in the Games Industry to support women via raising awareness of opportunities and sharing and supporting each other through challenges that are common across different stages of women's careers. Raising the profile of women in successful roles is a powerful way of encouraging us to keep going and break down hurdles which continue to get in the way. Women championing women is also really important and I think having women as mentors both within their companies and externally is vital to ensure more women stay the course and go after more senior roles.
6. What do you enjoy the most about working at Outplay?
In the Finance Industry I was working amongst colleagues with very similar skill sets and backgrounds. I love the genuine diversity within Outplay. Creating games has brought together so many passionate people from a wide spectrum of backgrounds and huge range of talents. During our regular company- wide meetings we come together to hear about all the great achievements made across the business. These meetings make me feel really proud to be associated with such talent. It's even better when we get together in person!
7. What have been some of your career highlights?
I worked on some large transactions as a corporate finance advisor when I was in the finance profession. I got a real buzz in those days from negotiating successful completions for our clients – not so much of a buzz from the all- nighters, though.
However, the switch to "sleeves rolled up" roles within companies was a big change for me and this path eventually led me to my role at Outplay – I'd count that as a career highlight.
8. What are you most looking forward to in 2023?
We have some very exciting new game launches this year. I'm really looking forward to seeing the results of everyone's hard work translate to continued commercial success for the business.
9. What is a piece of advice you would give women thinking about joining the games industry?
Go for it! Women are a massive part of the audience of game players and yet there are still not enough women creating those games. Jump on opportunities. Once you join the games industry, you'll realise that there are so many paths that your career can take. Once you join, get yourself a mentor who will support you as you continue to grab those opportunities.