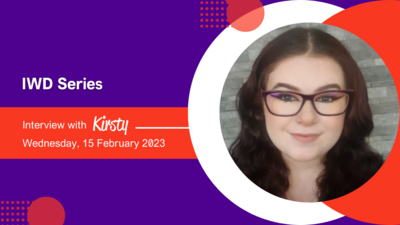 International Women's Day Blog - Kirsty Adair
1. Tell us about your pathway into the games industry?
I first became interested in games when I got my first console, a PS3, and started playing games like The Last of Us and Assassin's Creed. I enjoyed programming at school, and eventually decided that I wanted to pursue a career in game development, so I went on to study games software development at university. For my 4th year of uni, I did a placement year in the industry – I got an internship at Outplay, and did my uni work in the evenings until I graduated. My internship became a permanent position, and I've been here ever since!
2. What is your role at Outplay? and tell us what your day-to-day is like.
I'm a software engineer, so most of my day-to-day work is on our match game system, implementing things like character powers and level mechanics. Aside from feature work, I work on bug fixes, and assist other team members with getting art assets or SFX hooked up in-game.
3. What do you enjoy the most about working in the Games Industry?
I really enjoy working with a talented and passionate team – working on a project that the team really believes in is so motivating, and it's rewarding seeing it all come together.
I also like that I get to work on new systems and mechanics regularly. It's great to learn more about the codebase and grow my skills as a developer.
4. What challenges have you faced in your career, and how were you supported or how did you overcome them?
It can be really intimidating working in an industry that's so male-dominated, especially in software engineering, but the only way that can change is if more women get involved. Encouraging more women to join the games industry is rewarding, and helps me feel like I'm doing my part to balance the scales a little.
5. What initiatives do you feel best support women in their careers?
The Women in Games virtual conferences are great – I attended one shortly after starting in the games industry and found it inspiring to hear stories of so many women and their career journeys. Any opportunity to amplify women's voices is good, as it helps to build a supportive and welcoming environment for women within the industry.
6. What do you enjoy the most about working at Outplay?
Outplay took me on with absolutely no experience, which was an incredible opportunity that I'm really grateful for. I've learned so much since I started out, and the culture here is very diverse, supportive, and encouraging, so that has really helped me to build my confidence and push myself.
7. What have been some of your career highlights?
Last year I was asked to give a presentation on my journey into the games industry for the university I studied at, which was amazing. It was such a surreal feeling to be a presenter at a talk like the ones I was in the audience of four years ago. I found it intimidating presenting to a large audience, but it was really important to me to be the female representation I always felt was missing whenever I attended similar talks. I'm glad I did it, and I hope I have the opportunity to do similar things in the future!
8. What are you most looking forward to in 2023?
I am really excited for the global launch of the title I am working on – it's been a huge effort from the team and I'm looking forward to it being fully released and seeing people enjoy it!
9. What is a piece of advice you would give women thinking about joining the games industry?
Don't be afraid to speak up – it can be easy to get drowned out, so make yourself heard! Have confidence in yourself and your abilities, and you'll do great.