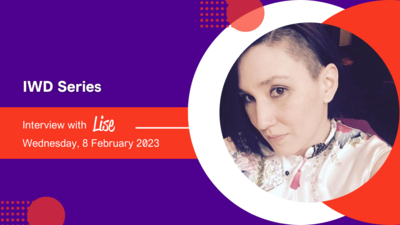 International Women's Day Blog - Lise Dale
1. Tell us about your pathway into the games industry?
My journey is a very interesting one, it follows the line of … 'the degree I studied in University has nothing to do with my current role'.
Although I studied Fashion Management at University, I wanted to make sure that the course I studied had transferable skills and that I would not be pigeonholed into just one industry. The course covered everything from branding/marketing to inventory management to writing business proposals. Whilst the course was fashion specific it didn't mean that I couldn't use these skills in other industries too. This was my main agenda when picking a course to study.
It was during my first job in the fashion world that I made up my mind that I was going to follow my dream and work in the games industry. I made a promise to myself that I would one day be working in the games industry 'I do not know when and I do not know how but I will one day be working for a game studio'.
From there it was a case of looking for an opportunity and with each new role I made sure to learn new skills to build on my experience.
I started off in fashion, then the beauty industry (in the operations and business side), then a tech company, then it was onto education games for students, and finally landed my role at Outplay.
It has been quite a journey but one I do not regret.
2. What is your role at Outplay? and tell us what your day-to-day is like.
As the Player Support Manager, I look after our Support & Community team, making sure that all our players recieve world-class support for their issues or questions.
I also make sure that we maintain good communication with the development teams and report back on any issues we might be seeing.
3. What do you enjoy the most about working in the Games Industry?
The most obvious answer would be 'because I love games'. But in all seriousness, I enjoy learning more about the games industry and what goes into making a game.
It is also nice to see how different areas work and the pathways you can take if you want to have a different direction in your career.
4. What challenges have you faced in your career, and how were you supported or how did you overcome them?
I'm sure we have all had this happen to us in one way or another but the common 'you are not good enough' and the 'you don't have enough experience' comments come to mind.
I also grew up in a time when gaming was not thought to be a good career move and anything computer related was a boy's or a man's field. Mention the word 'gaming' back then and you'd be met with the 'it won't make money' or 'it's just a passing phase, it will never work as a job'.
While these things might have delayed me from getting into the gaming industry, they did not stop me. People who know me, know that I tend not to care what people think of me and if I set my mind to something I will attempt it.
Lucky for me my friend group is all mostly gamers and I've always been treated as one of the gang among them (90% of my friends are guys). They have been my rock when things go bad. I don't think I would be here if not for some of their support and encouragement.
I also must credit my partner for giving me the confidence to apply for jobs knowing I have the skills even though I might not think I am good enough.
Thanks to the constant support of my friends and family I have become a very confident person in my skills and abilities and I am not sure I would be there without them.
5. What initiatives do you feel best support women in their careers?
Women in Games I think is a great way for other women to network and get advice from other women.
Other good initiatives are showing that the company has a good work-life balance, which can be good for women with families.
Having a good training and growth platform is wonderful for women who might want a career change or an opportunity to enhance their skills.
And just empowering women to be heard and know they are listened to.
6. What do you enjoy the most about working at Outplay?
The people I have met and the challenges that I have with the role. I love how at Outplay you are encouraged to learn and develop skills through Outplay Academy, this is something that I have not seen in other companies.
7. What have been some of your career highlights?
My highlights cover a range of careers, not all within the gaming industry.
The first one has to be in my very first job where I was featured in a news article on fashion styling. This was when I first started out as a Personal Stylist.
The next one would also be from the same job, by now I had been promoted to Senior, Executive looking after their CRM and loyalty programs - it was when I did a presentation to the Heads and Senior Managers for the rebranding of one of the store's loyalty cards. Sadly I left that role before I could see that project through.
Seeing great CSAT scores and happy feedback from customers has to be a highlight in any support role.
Finally my current highlight is getting the job at Outplay and seeing what the future will hold
8. What are you most looking forward to in 2023?
The new challenges and anything the new year will throw at us, be it good or bad or anything in between.
9. What is a piece of advice you would give women thinking about joining the games industry?
Don't ever let anyone tell you, 'You can't do something'. If you have a dream go for it, be it in the games industry or anything else. Don't be scared if you are the only girl in the class or room.
Skills can be learned and the game industry isn't all just coders and producers. Find out what you like and even if it's in customer support there is a role for you in the game industry. Learn new skills as you go along and evolve to find your place.
You will have hurdles and you will have people tell you, you're not good enough but don't let that hold you back instead use it to make you stronger and more determined to succeed.
You do you, and what will make you happy.