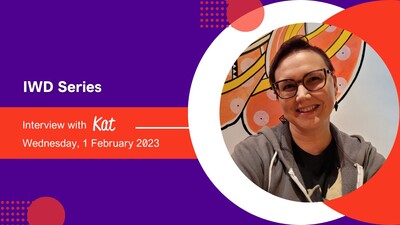 International Women's Day Blog - Kat Michalak-Czechowska
1. Tell us about your pathway into the games industry?
It was not an obvious path: I used to work in a big financial corporation, but games were always my passion. I played a lot of boardgames, tabletop RPGs, and helped to create and balance games that my friends developed. I was lucky: when I was close to burnout in the corporation, my experienced game developer friend was forming his own team and he wasn't afraid to hire people without a game industry background. My passion and quite versatile education were enough for him to give me a chance. I started designing and can't stop ever since.
2. What is your role at Outplay? and tell us what your day-to-day is like.
I'm a senior game designer. My job is to figure out what the game should be about, and how it should guide the players and reward them for their engagement. My life consists of writing design documentation, speaking to coders and artists who implement the features I design, creating levels and playtesting them… It's doing a lot of different things and making sure everyone in the team is on the same page for the game's vision and purpose. I also help our writer to develop the narrative for the game, which is probably my favourite part.
3. What do you enjoy the most about working in the Games Industry?
The people I work with. Every day I meet people so talented that I'm in constant awe. I love seeing them making my ideas alive and perfecting them in the process. And I like the thought that the game I'm contributing to is bringing joy to the players.
4. What challenges have you faced in your career, and how were you supported or how did you overcome them?
The biggest challenge is the fact that in game design everything is in constant change. We iterate, correct, improve our ideas, delete them and start from scratch all the time. It took a while to get used to this chaotic state of constant change. But it is also the thrill of this job.
Another challenge is being heard – as a woman I've noticed that I sometimes need to make a lot of effort to explain my reasons and be allowed a bit of a spotlight during the meetings etc. But I've met a few wonderful colleagues who helped me to shine. Or taught me how to be a bit fiercer to get the time and attention my ideas deserve.
5. What initiatives do you feel best support women in their careers?
Any program that makes women more visible and better heard is good. I also think that educating girls towards a game development career is very important. The feeling of not being alone and having support of other women in the industry means a lot to me – if we have more of women in the industry to rely on, it'd make us even stronger.
6. What do you enjoy the most about working at Outplay?
Again, the people! So many wonderful souls, with extraordinary passions and interests, so talented and helpful! I'm also fascinated by Scottish culture and I'm happy that Outplay is keeping in touch with this important part of its identity.
7. What have been some of your career highlights?
I was very proud of my first game that I've made from the start to end, and from the fact that in its time it received quite good reviews. I'm also super happy from the feedback I'm getting from my team recently. It seems I'm able to bring some positive change to how people work and communicate, and it makes me proud.
8. What are you most looking forward to in 2023?
The game I'm working on is planned to be launched in 2023. I'm obviously looking forward to that! It's already so beautiful and fun to play, even in its early state.
I'm also looking forward to being in the office more (I work fully remote from the Netherlands). Outplay is organising great get-togethers and I hope this year's ones will be as grand as the ones organised last year.
9. What is a piece of advice you would give women thinking about joining the games industry?
Be fierce and don't be afraid to be loud.
Always appreciate the people you work with and tell them what great job they are doing.