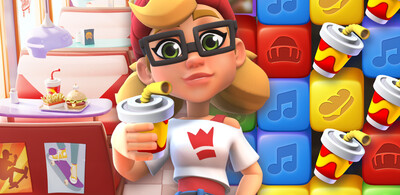 Subway Surfers Blast Launches Worldwide
Outplay Entertainment, the largest independent mobile game developer in the UK, and SYBO, the Copenhagen-based mobile games studio behind Subway Surfers, the most-downloaded game of the past decade, today announced a new expansion to the hit franchise – Subway Surfers Blast. The game allows players to explore the Subway Surfers world in an all-new puzzle adventure.
Subway Surfers Blast, developed by Outplay Entertainment and published by SYBO, brings the two major mobile games studios together for the first time, giving fans an entirely new gameplay experience to help their favourite characters from the Subway Surfers crew build their world and explore the Subway City in never-seen-before ways. Players will solve challenging puzzles, earn stars, and blast through new levels to unlock rewards and decorate their dream hangout.
"Subway Surfers' momentum has shown no signs of slowing, especially after being named the most-downloaded game of 2022 over a decade post-launch," said Mathias Gredal Nørvig, CEO of SYBO. "Our fans have consistently shown an appetite for more, and Outplay was the perfect partner to help us develop something new and exciting for them. With Subway Surfers Blast, we're thrilled to give players an entirely fresh way to engage with the characters they know and love."
Subway Surfers Blast marks the fourth expansion of the Subway Surfers franchise, which also includes Subway Surfers Match, Subway Surfers Tag, and the flagship Subway Surfers game that recently surpassed 4 billion lifetime downloads. Subway Surfers has additionally seen a viral resurgence on TikTok, where its account boasts over 7 million followers to date.
​​Douglas Hare, Co-Founder and CEO of Outplay Entertainment, said: "Throughout Outplay Entertainment's history, we've developed a hugely successful portfolio of fun and accessible mobile games for players across the world to enjoy. Having the opportunity to work with a globally recognised IP on the development of Subway Surfers Blast has been a dream come true.
"Adding the Subway Surfers name to our portfolio is a huge growth opportunity that solidifies our expertise in working with partners to bring their IPs to a wider audience, and we're looking forward to growing the title together in the future."
Founded in 2011, Outplay Entertainment has a wealth of experience in bringing popular IPs to life on mobile, including Gordon Ramsay and Angry Birds, and is recognised as one of Europe's leading developers. Its culinary mobile puzzle game, Gordon Ramsay's Chef Blast, has more than five million downloads, and nominations for several awards, including Best Puzzle Game at the TIGA Games Awards 2022.
Subway Surfers Blast is free-to-play and available now on iOS and Android.