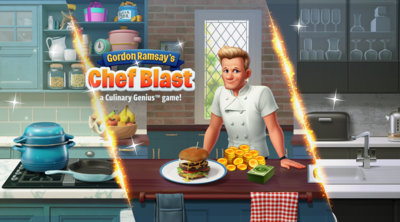 Build Your Dream Kitchen In The Latest Update To Gordon Ramsay's Chef Blast
Rise from amateur chef to Gordon Ramsay veteran and give your virtual kitchen the customisation and makeover it deserves
DUNDEE, SCOTLAND – December 2, 2021 – Outplay Entertainment, the largest independent mobile game developer in the UK, has announced a new update for its culinary mobile puzzle game, Gordon Ramsay's Chef Blast. The new Kitchen Makeover feature, which is available now, allows users to customise elements of their kitchen via a new tasks and customisation system.
The new feature adds a whole new element to Gordon Ramsay's Chef Blast, with players inheriting a run-down kitchen at the outset of the game and being met with dirty counters and broken cupboards. On a mission to restore the kitchen to its former glory, players will begin as an amateur chef and be trained by Gordon Ramsay. As players complete levels in the game, they will earn cash which can be used to complete tasks that will replace and upgrade the various elements of their kitchen piece by piece and build the kitchen of their dreams.
A total of 13 different kitchen sets will be available for players to unlock, with each set featuring unique elements across 17 customisation categories, with more kitchens to be added in future updates and special events. Elements that can be updated include kitchen counters, wallpaper, utensils, cabinets and many more.  
Gordon Ramsay said: "In this incredible new update to my mobile game, Gordon Ramsay's Chef Blast, my virtual counterpart helps players explore their creativity to design and customise their very own dream kitchen, while continuing to experience all of the cube matching fun and exclusive real-world recipes they've come to enjoy."
Douglas Hare, CEO of Outplay Entertainment, said: "We're delighted to announce the new Kitchen Makeover update, giving our players an entirely new gameplay experience and reward system for the first time since launching earlier this year. With limitless makeover options, the introduction of this new feature is the start of an exciting new chapter for Gordon Ramsay's Chef Blast."
Gordon Ramsay's Chef Blast is Outplay Entertainment's acclaimed title featuring the Culinary Genius™ himself. Released in January 2021 and nominated for best casual game at the TIGA Games Awards 2021, players can blast their way through the puzzle game by tapping and matching cubes to win levels and unlock some of Gordon's most impressive recipes.
Gordon Ramsay's Chef Blast is free and available to download now on iOS and Android: