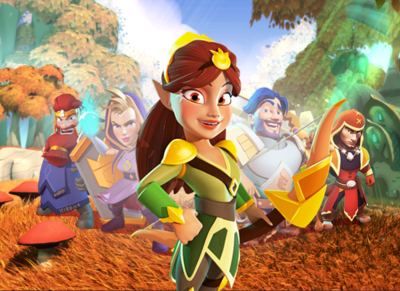 Castle Creeps Td Reaches 2 Million Downloads In Its First 5 Days
Outplay Entertainment's stunning epic fantasy Tower Defense hit #1 strategy game in over 60 countries around the world
Dundee, 12th January 2017 – Outplay Entertainment reached over 2 million downloads during the first five days of release of its brand-new Tower Defense title, Castle Creeps TD. The game, released last Thursday on the Apple App Store, Google Play and Amazon Appstore, became the #1 strategy game in over 60 countries around the world. This follows the successes of smash hits Alien Creeps TD, Mystery Match, and Crafty Candy.
Richard Hare, co-founder and President of Outplay Entertainment, says: "The team here at Outplay have outdone themselves once again, and the global success of CASTLE CREEPS TD since its launch is testimony to that. The stunning artwork and attention to detail in every aspect of the game, aided by the epic storytelling and fantastic gameplay has clearly resonated with fans of the Tower Defense genre and mobile gaming fans at large. We're excited to continue to expand the CASTLE CREEPS TD universe and welcome more players to the community."
CASTLE CREEPS TD features a stunning fantasy story with a compelling, evolving narrative and a cast of memorable Heroes and Warlords with intricate backstories and personalities.
The game features over 40 battles, throughout 12 chapters, with much more to come. With highly detailed visuals and intuitive playability, perfect for casual or more in-depth play. CASTLE CREEPS TD also allows you to join friends in the game through Facebook, share powers and top off resources and reinforcements.
Download CASTLE CREEPS TD, available now for free.
Apple App Store: https://bit.ly/cctdios
Google Play: https://bit.ly/cctdgps
Amazon Appstore: https://bit.ly/cctdamz
Castle Creeps Trailer: https://youtu.be/CsLZlwWYNJo
Press Kit: https://bit.ly/CCTDPK
CASTLE CREEPS Details:
Release date: Out now
Available on: Apple App Store, Google Play, Amazon Appstore
RRP: Free-to-play
Developer: Outplay Entertainment