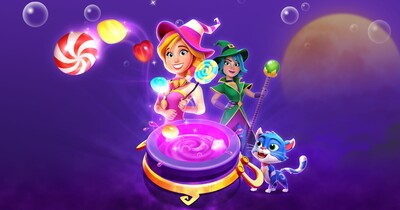 Crafty Candy Blast
The most magical matching game is back and sweeter than ever!
Join Candice and Trixie, two apprentice witches and their adorable pet Cookie the cat, journeying across an enchanted land of sugar coated magic. Treat yourself to hundreds of fun, confectionary-filled levels with different puzzles; Crush crunchy gobstoppers, collect sugary sweets, pop fizzing soda cans and much more!
Playing is easy and intuitive! Tap groups of matching candies to blast them. Four or more candies makes a powerful Line Bomb that clears multiple candies at once! Combine Line Bombs to make new, more powerful boosts, strategically plan your boosts to clear the board and complete the puzzles!
Take your candy matching skills online, competing in the global leaderboards to crown the top Witch! Use your magic to unlock new avatars and join exciting events that will keep you coming back again and again.
Crafty Candy Blast is updated regularly with delicious new features, this game is one not to be missed.