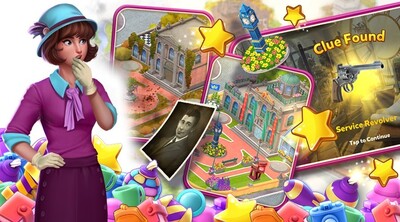 Episodic Thriller Mystery Match Village Launches Worldwide
Uncover Clues and Solve Puzzles in the New Match-3 and Hidden Object Game Available Now on Android and iOS Devices
Outplay Entertainment, the largest independent mobile game developer in the UK, launches Mystery Match Village worldwide on Android and iOS devices. The riveting and innovative match-3 puzzle game, and spiritual successor to the popular Mystery Match, takes players on an all-new adventure with bubbly private investigator Emma Fairfax as she returns to her hometown of Kingsfall to find her village shrouded in secrets that she is eager to solve.
First released in 2014, Mystery Match changed the landscape of mobile puzzle games by being the first to inhttps://www.outplay.com/games/mystery-matchclude a narrative-driven match-3 experience. Building on the success of its predecessor, Outplay Entertainment introduces the anticipated follow up, Mystery Match Village, to challenge and entertain fans of mystery stories and perplexing puzzles alike. Pushing the production values and gameplay variety of the puzzle game genre, Mystery Match Village takes narrative-driven storytelling and match-3 gameplay to the next level by introducing new mechanics, hidden object searches, village restoration, episodic content with a growing cast of intriguing and lovable characters that will evolve the overall plot, and more intricate clues to hone those detective skills.
Each episode in Mystery Match Village introduces a unique case to be solved and new characters and locations to investigate in the village of Kingsfall. Mysteries of looted family heirlooms, missing person reports, and unexplained happenings are solved by earning Stars in match-game rounds and hidden object searches for worthwhile clues. By enlisting the aid of colorful characters around town as well as a nameable feline sidekick, players can don their detective hat to solve the mysteries surrounding Kingsfall and help rebuild the town to its former glory.
Gameplay Features Include:
EPISODIC CONTENT AND MEMORABLE CHARACTERS - Released every eight weeks, episodes include new characters and storylines that evolve the overall plot and expand the village.
ENGAGING MATCH-3 GAMEPLAY - Highly polished puzzle gameplay with over 40 unique mechanics and 400 levels introduced at launch, with 100 more levels to be added in each new episode.
HIDDEN OBJECT SEARCHES - Replayable hidden object searches include storyline clues for the crime scene and offer rewards for completion. Hidden object searches become more challenging with each replay of the scene. Master scenes to unlock and earn exclusive rewards.
EARN STARS TO RENOVATE THE TOWN OF KINGSFALL - Each episode focuses on a new location in Kingsfall. Through match-3 gameplay, the village can be renovated and customized with visual upgrades.
Mystery Match Village is now available worldwide on the Apple App Store and Google Play. For more information on Mystery Match Village, follow the organization via its official website here, and the game on Facebook.