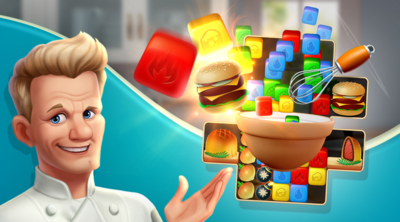 Gordon Ramsay: Chef Blast Launches Worldwide
Become a Culinary Genius™ in this newly launched mobile game featuring everyone's favourite chef, Gordon Ramsay!
Join Chef Ramsay in the kitchen as he offers encouragement, or the occasional virtual kick in the backside, while completing culinary challenges. Players are able to unlock some of the Chef's favourite recipes as well as new exclusives that have never been available online or in any of his top-selling cookbooks.
Launch features:
260 levels from day of global launch
Gordon Ramsay voice over and commentary
In-game boosts to help slice and dice your way to success
Recipe book and exclusive recipes that you can try at home
Compete in the exclusive Culinary Genius™ tournament to earn trophies and rewards
Playing is easy and intuitive! Tap groups of matching cubes to collect them and complete level goals. Get creative by matching 9 or more cubes of the same colour in a single turn to create a Chili, tapping this Chili will remove all other cubes on the board of that colour! Combine Chilis to make a new, more powerful boost and strategically use to clear the board and complete the puzzles!
Use in-game Boosts to slice through tricky puzzles. Smash through cubes with the Hammer or remove stubborn columns with the Peeler. With these culinary tools, all levels are possible!
Launching in six different languages, Gordon Ramsay's Chef Blast is the culinary delight that you can enjoy wherever you are. This is a game not to be missed.