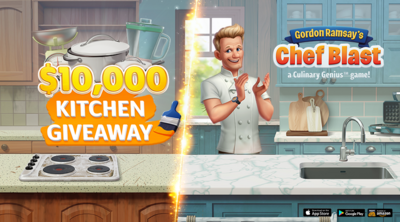 Gordon Ramsay's Chef Blast Sets Challenge To Win A Kitchen Makeover
Players that defeat 10 levels in Gordon Ramsay's Chef Blast can enter the competition for the chance to win a real life kitchen makeover
We have partnered with Gordon Ramsay to set a new challenge for players in our culinary mobile puzzle game, Gordon Ramsay's Chef Blast, to win a kitchen makeover worth up to $10,000.
For the chance of winning the free-to-enter competition, starting at 00.01am GMT on March 18th, players must defeat 10 levels in the game and enter before the competition closes on April 15th.
Gordon Ramsay's Chef Blast is giving players the opportunity to make their perfect kitchen dreams a reality following a major update made to the game released back in December 2021. The update allows players to customise their dream kitchen in-game after inheriting a run-down kitchen at the outset of the game and are set on a mission to restore it to its former glory. The game is making this update a reality by giving players the chance to put $10,000 towards a Kitchen Makeover in their own home. The prize fund will be awarded by Outplay Entertainment for the chosen winner to design their kitchen with Wren Kitchens.
Douglas Hare, CEO of Outplay Entertainment, said: "We're delighted to announce a new competition for Gordon Ramsay's Chef Blast, giving one lucky player the opportunity to win their dream kitchen for their home. Since the release of the Kitchen Makeover update, we've enjoyed seeing the numerous makeovers our players have created and can't wait to see how the winner chooses to design their real kitchen with the prize fund."
In addition to the Kitchen Makeover competition, players will have the opportunity to win a brand new and exclusive recipe to help celebrate St Patrick's Day. Players can enjoy the Sticky Irish Whiskey Braised Short Ribs with Cabbage-Mustard Mash recipe, which is available now to unlock in-game.
Gordon Ramsay's Chef Blast is Outplay Entertainment's acclaimed title featuring the Culinary Genius™ himself. Released in January 2021, already downloaded 3m+ times and nominated for best casual game at the TIGA Games Awards 2021, players can blast their way through the puzzle game by tapping and matching cubes to win levels and unlock some of Gordon's most impressive recipes.
Gordon Ramsay's: Chef Blast is free and available to download now on iOS, Android and Amazon devices:
· Apple App Store: https://apps.apple.com/be/app/gordon-ramsay-chef-blast/id1515755905
· Google Play Store: https://play.google.com/store/apps/details?id=com.outplayentertainment.chefblast&hl=en_GB&gl=US
· Amazon App Store: https://www.amazon.co.uk/Outplay-Entertainment-Ltd-Gordon-Ramsay/dp/B09BDG8YQB/