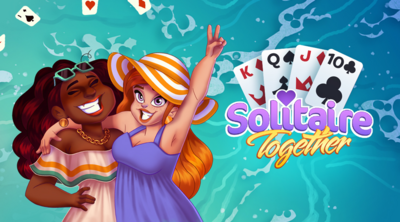 Outplay Entertainment Announces Facebook Instant Game
The studio behind Gordon Ramsay's: Chef Blast and Mystery Match Village marks its return to Facebook Instant Gaming with a brand new take on Solitaire
DUNDEE, SCOTLAND – February X, 2022 – Outplay Entertainment, the largest independent mobile game developer in the UK, has announced its return to the development of socially-led games for the Facebook Instant Gaming platform. Its first new game, Solitaire Together, is available from today.
Following the success of its existing mobile games, including Gordon Ramsay's: Chef Blast and Mystery Match Village, the company saw potential to reconnect with users of Facebook Instant Gaming and return to its social roots. Having previously released Zen Words and 2 Photos, 1 Word on the platform, the new launch of Solitaire Together marks the first of a series of Facebook Instant Games that are in development for 2022. Its next title, Words Together, is due to launch in Q1 2022.
Solitaire Together takes the classic card game and integrates it into Facebook's social platform. Up against the clock, players will complete a round of solitaire within four minutes or less, setting a high score for their friends to beat. Once players have set their score, they will share and challenge their friends to try and beat their score. The ultimate winner will be decided over three rounds, with winners receiving trophies in their triumph. As players win matches, they will assemble more trophies, adding to their total on a shared leaderboard.
Solitaire Together is fully integrated with Facebook and players can directly challenge friends in Facebook Messenger, or start a personalised Solitaire Tournament with a one click post to their newsfeed for friends to play against one another.
Douglas Hare, CEO of Outplay Entertainment, said: "We're delighted to announce our return to making games for Facebook with the launch of Solitaire Together. The platform is a great way for us to begin developing more social-based, multiplayer titles for our players. We're delighted to be continuing our great relationship with Facebook by contributing new innovative titles to this ecosystem this year."
Outplay Entertainment is the studio behind the acclaimed title Gordon Ramsay's Chef Blast, which features the Culinary Genius™ himself. The studio is also the creator of Mystery Match Village, which is currently enjoying an Agatha Christie Death on the Nile season pass update.