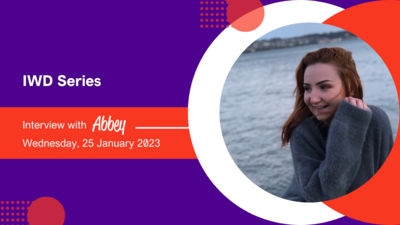 International Women's Day Blog - Abbey Tonkinson
1. Tell us about your pathway into the games industry?
I've had a strong passion and love for games since a young age that was nurtured by my Father. We used to game together when I was young and he introduced me to a large variety of different genres, and from that I grew in to a computer game lover and decided that that was what I wanted from a career. From there, I worked very hard to educate myself in as many areas as I could before I got my first job in the industry, so I was as knowledgeable as could be in advance.
2. What is your role at Outplay? and tell us what your day-to-day is like.
I'm a QA Engineer, so my day-to-day role consists of bug tracking, regression testing, risk assessment, creating structured test scripts and test plans, and providing clear, accurate feedback to developers and the production team.
3. What do you enjoy the most about working in the Games Industry?
The creativity and the challenges. No day is the same, and to know you've worked on a title that is played and enjoyed all around the world feels great.
4. What challenges have you faced in your career, and how were you supported or how did you overcome them?
I feel like in a male-dominated industry it's natural that myself and other women may have worries like, whether a man will get hired or promoted instead of you, but it's something that's natural and you hope to gain confidence in that it isn't the case.
There can also be concern about your appearance and whether that's prevented you from being taken seriously, things such as wearing too much make-up or what your wearing. Being caught up in these worry spirals can take a mental toll on you. In my current role through speaking to peers and, and taking advantage of the resources available I've been able to develop coping strategies for my anxiety and well-being. I've also reached out to other women for support when I was struggling which really helped.
Starting my career at a younger age than most, was also a personal challenge that on occasion made me feel like I needed to gain people's respect and prove myself.
I overcame all these challenges by being confident within myself and showing everyone that a young person is just as capable.
5. What initiatives do you feel best support women in their careers?
The reason we're doing this blog – International Women's Day. This is a great way to show support and encouragement to women in all work sectors around the world
6. What do you enjoy the most about working at Outplay?
The culture! I work with such talented and creative people from all across the world and take huge inspiration when hearing about each individual's story and journey through the games industry.
Outplay has also given me the chance to work on some large IP's such as Angry Birds Pop and Gordon Ramsay Chef Blast.
7. What have been some of your career highlights?
Back in 2019 I had the opportunity to provide a presentation at a local university based on the topic 'Women in games'. The purpose of this was to encourage young females with a passion for games to come into the industry. This was a successful outing which I very much enjoyed and would do again.
8. What are you most looking forward to in 2023?
I'm excited to develop my existing skills and be even better at my job than before, and I'm looking forward to the upcoming opportunities of assisting on up-and-coming Outplay games and seeing our current games continue to grow.
9. What is a piece of advice you would give women thinking about joining the games industry?
Just do it! Don't doubt yourself, be confident and most importantly be yourself.
Focus on the work, commit yourself, and you'll shine.