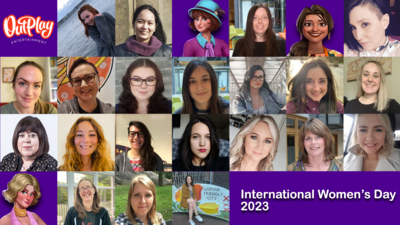 Outplay Celebrates International Women's Day 2023
In celebration of International Women's Day, over the previous 6-weeks, Outplay has explored what it has means for some of our incredibly talented women to be working in the games industry and their career journeys to date. You can find links to all these posts below or in the News and Views section of our website.
In 2018 Outplay proudly became one of the first corporate ambassadors of Women in Games.
As Corporate Ambassadors we are focused on how to best align with their agenda to support, empower, and celebrate talented women in the games industry.
As well as the role, we as a studio take in supporting the many impactful initiatives the WIG organisation delivers, we also have 2 individual ambassadors.
We asked them to share their passion for their advocacy in this area and how they are utilising this platform to support and champion other women in games.
Alison Clark our Lead HR Business Partner was asked what being a Women in Games Ambassador means to her:
"Being an ambassador of any organisation is key to helping them deliver their mission; champions help improve the industry overall with the culmination of individual efforts and initiatives. Organisations such as WIG provide insights into the issues, challenges and amazing work being done so that talented and passionate individuals can collaborate to deliver and demonstrate the need for an industry, culture and community free of gender discrimination. It's important as ambassadors we represent and support diverse groups in the industry and beyond, across disciplines and levels within organisations. Having access to organisations such as WIG allows champions of diversity the opportunity to share knowledge and learn from each other, enabling accelerated movement for gender equality within the industry and beyond.
Being an ambassador has not only enabled me to contribute to improving the industry but also in every avenue of life, both personally and professionally. I can't highlight enough the privilege it's been to collaborate with so many wonderfully talented individuals to share my own knowledge and learn from others, anyone considering being an ambassador should go for it – you won't regret it! There's so much support and channels for communication that whatever your preference you'll be able to learn and contribute to such an important cause."
Anna Conry, a Product Marketing Manager who recently became a Women in Games Ambassador, discusses the impact she sees Women in Games & their ambassadors having:
"As a woman who has worked in the gaming industry for over 5 years, I feel it's important to be involved in Women in Games. As an ambassador, I have a platform to encourage female applicants towards roles, assist Outplay with their policies and share my opinion based on equitable values and my experiences as a working parent. I'm hoping to pave the way for others interested in the gaming industry and making positive improvements for all.
Ambassadors are the ripples of change, we share, we support, and we thrive to educate through workshops and social events. I was accepted into the ambassador programme this year and have already felt the benefits. I have access to a wider network where I can give my own experiences, hear from others and support through the ambassador social channels providing a community of strong, forward-thinking people that want to focus on meaningful impacts.
My personal goal is to help make the games industry more friendly towards younger families, something that Outplay is leading the way with! Without support, I wouldn't have been able to return to work on a part-time basis, giving me the opportunity to work and be a mother."