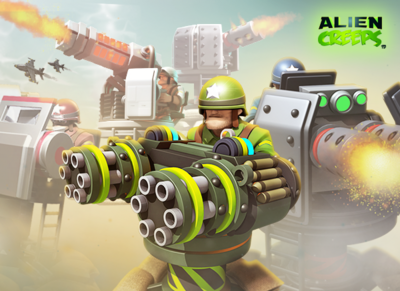 Alien Creeps Td Surpasses 20 Million Downloads Worldwide!
Dundee, 22nd May 2017 – ALIEN CREEPS TD has just reached a new level of success by surpassing 20 million downloads worldwide. The free to play game, which was developed by Dundee based Outplay Entertainment, is available on Apple App Store, Google Play and Amazon Appstore.
ALIEN CREEPS TD is a tower defense game that challenges players to save the world from an over-the-top and relentless alien invasion. In the game, players unleash an arsenal of mighty towers, soldiers, and heroes on one simple mission – to save civilization. Originally released in October 2014, the audience has grown consistently as fans have continued to battle fierce aliens, who certainly didn't come in peace.
Richard Hare, Co-founder and President of Outplay Entertainment, says: "All of us at Outplay Entertainment are very excited that Alien Creeps TD has reached this significant milestone of 20 million downloads. Since we launched the game in October 2014, the team has worked hard to add amazing new content and features to keep the game fresh and endlessly engaging for our incredibly passionate audience. A huge thanks to the loyal fan base that has made Alien Creeps TD such a huge success."
Castle Creeps TD, which is the next instalment to the Creeps series, looks to repeat the success of its predecessor having hit 2 million downloads during the first five days of its release earlier this year.