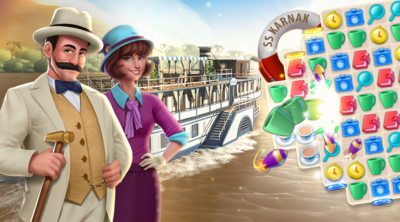 Hercule Poirot Comes To Mystery Match Village
Outplay Entertainment is excited to announce we have partnered with Agatha Christie Ltd to bring Death on the Nile to the world of mobile gaming for the very first time. Players can now experience the Agatha Christie classic like never before, as part of a limited-time Season Pass, available only in Mystery Match Village, the incredible match-3 puzzle and hidden object adventure game from Outplay Entertainment.
For the first time ever, players will take on the opportunity of a lifetime stepping into the role of assistant to the iconic detective, Hercule Poirot, in a faithful retelling of Death on the Nile, featuring characters and locations from the novel. Players will assist Poirot as he leads the investigation, sharing his suspicions and insights while working together to uncover the truth in one of Agatha Christie's best-loved and most famous works.
Escaping to the golden sands of 1930s Egypt aboard the S.S. Karnak, intrepid investigators will help unravel the classic tale of love, betrayal, and murder under the Belgian detective's expert tutelage. By completing levels, players will earn Poirot Points to unlock cinematic and narrative scenes, in-game boosts and rewards, and exclusive exotic world decorations for their village.
The Death on the Nile adventure is a 30-day event for current and new Mystery Match Village players. The Season Pass will remain available for any new players coming to Mystery Match Village until April 2022.
Mystery Match Village is free and available to download now on iOS and Android: