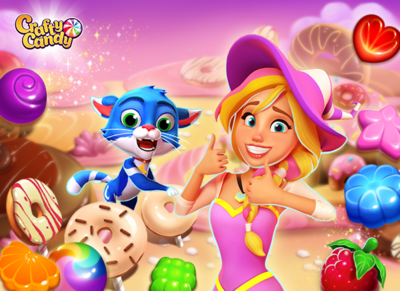 Behind The Scenes With The Crafty Candy Team
Have you ever wondered what goes into an update on one of our titles? Today's blog uncovers some of the mysteries around this and gives a brief introduction to the hard work and planning our teams put in to create fantastic and regular updates for our players to enjoy!
Malcolm Collins – Producer, Crafty Candy
The team behind Crafty Candy delivers new content to our players every two weeks. That's two weeks to plan, design, concept, develop, test, and release an update across three separate platforms worldwide! Crazy, right?
Well, the reality is that each update for Crafty Candy actually starts months in advance and as the game's Producer it's my job to ensure the team have what they need to successfully deliver each step of the way.
So, what's involved in delivering one of these updates?
Before we can actually start working on anything we need a plan. This is probably my favourite part of the process as it's where we get to hear everyone's thoughts and ideas on how we can improve the game. After a number of brainstorming sessions, we distill all these amazing ideas down into a handful of high-level features which we think fit our game's core pillars and we're ready to go.
Our design team now spend a couple of weeks fleshing out these new ideas into fully formed features within our collaborative documentation tool, Confluence, covering everything from the UI flow to the impact on our economy. It's imperative that we get feedback early and often at this stage, so we encourage discussion from the whole team and the product's stakeholders throughout the process. Once everyone is happy, the design is signed off and it's onto the next stage...
With the design in the bag, we need to ensure that what we're trying to do is actually feasible and what it's going to take to develop. This stage is one of the trickiest to get right, but the most crucial in terms of ensuring we can work out what we can deliver and when. To do this, we need input from each of the disciplines within the team. How many new assets do we need? Do they require animation? Do we need back-end support? Does this require new game logic? What needs to be localised? Should we AB test it? What new analytics do we need? How long will QA need?
As we begin to explore these questions we can break down the feature into smaller and smaller taskable pieces of work. Once we have those, we apply an estimate as to how long we think each item will take and if we put it all back together again, hopefully, we should have a rough estimate as to how long we think the entire feature will take to develop. With a bit of math and a lot of Jira, our project management software, we can then plot out which feature will go with which sprint and release.
As we release a new update every 2 weeks, we break our work down into 2-week Sprints, allowing us to quickly create releasable product increments. However, most new features will be spread across a number of sprints, so, for this reason, we alternate our feature and content releases.
Once a feature has entered development, we track its progress through daily stand-ups, our Jira task board, and regular review meetings. At the end of the development cycle, we'll hold a build review to make sure it meets the design requirements before passing it onto QA for testing.
QA have been involved throughout the design and development process, so have a clear understanding of the feature's requirements and acceptance criteria. But with 3 platforms and thousands of potential devices to test for, their task is herculean. As soon as a bug is found, it's written up in Jira and published to a Microsoft Teams chat group where it's triaged, assigned and discussed with the whole team. This step is vital as it allows us to fix and verify bugs as soon as they are found.
With QA sign off, we first submit our build to Apple as they require time to review the build before it can be released on the App Store. Typically, this takes 2 days for an update, but in the past, it could take as long as 2 weeks for a new game.
Next up is Google Play. We initially roll out our update to just 25% of our user base at least 2 days before our official release date. This allows us to see if there are any stability issues which we've not already caught prior to a full rollout across all 3 platforms.
At the same time, we will submit our update to the Amazon App Store which typically takes 24 hours to be approved.
With our iOS and Amazon update approved and our partial Google Play roll out showing no signs of instability, we're all set for launch.
We release on a Thursday at 12:00pm GMT. This allows us to respond to any issues before America comes online, and ahead of the weekend.
On Friday we hold a team retrospective to look at what worked well for us over the last sprint, what didn't work so well and what we would like to improve for the next one. This step is crucial to identify problems within our development pipeline and come up with collaborative and creative ways to solve them.
It's then on to the next Sprint, devising the next great features and updates for our worldwide Crafty Candy Community! Not as simple as you first thought, right? We couldn't have achieved what we have so far without the talent of our team and the support of every player, and we hope to bring even greater enjoyment to all in 2018!
For more behind the scenes and the latest stories, make sure to follow us on Twitter!