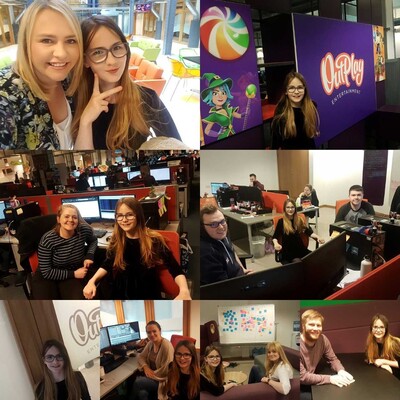 Millie's Visit To Outplay
As part of this years bring your kid to work day, we had the pleasure of having Millie (10 years old) join us for the day and had her explore and report on the various roles in the studio.
Here's how she got on!
A Day In Outplay
Hi, today I was in Outplay for my careers day.
When I first arrived, I met up with my Aunty Emma, she showed me around and gave a presentation to me so I could learn about what it was that they actually did.
Last time I came here was just a quick visit because Aunty Emma was taking me out shopping for my birthday and left something at work. Anyway after she showed me around and did the presentation I met a man called Richard and he just asked me a few questions like my best subject in school so I told him: Probably writing stories. the reason Richard asked me this was for a later job he wanted me to do.
At 9:30 I met 2 men called Aaron and Andrew, their job was doing community management. I talked to them and they were very friendly and funny. I told them some of my feedback on some of the game logos and Game screenshots and they took my opinion into account. That's the thing about outplay any opinions or reviews that you leave for them to see, they will see them and listen.
At 10:15ish I went to go and meet a lady called Donna and her job was a graphic designer. She showed me how they use the characters for the adverts for the games. Donna was funny and shared my interests in Harry Potter, YAY.
Then At 11:00ish I got to meet a girl called Eilidh. Eilidh showed me about how she worked in QA. This was very interesting as I found out about a kind of coding, this was fun because Eilidh only graduated from college a year before I met her but it looked like she had been doing it for literally years. She also told me how to get a problem with the game fixed.
I also went to meet a lady called Iona at 11:30ish, she was an artist on angry birds pop. It was fun to see how games were made to look so, well animated. Iona was fun and seemed happy.
After I met with Iona it was time for LUNCH!!! YAS. Me and Aunty Emma went to a restaurant.
After lunch I met with Richard again but this time for real. He asked me to do him a job, it was to research and view over the Outplay website and give any suggestion I had and then he bought me some yummy cakes, THANK YOU!!!
By Millie