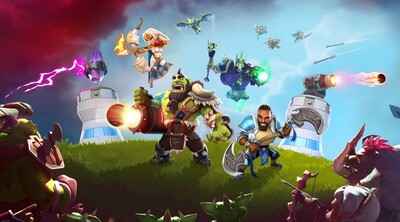 Outplay Entertainment Release Castle Creeps Battle!
Outplay Entertainment announce the release of the franchise's third instalment, Castle Creeps Battle!
Castle Creeps Battle blends the fun of tower defence, brawlers, and collectible card games. The result is an adrenaline fuelled real-time PvP showdown. Fast paced warfare pits you against foes from across the world, as you battle to dominate Arenas. Wager your winnings on matches, and risk it all for honour, glory and gold!
Launch Features:
Four amazing Heroes, each with their own special ability and stats.
Over 25 unique troop cards, 12 different tower combinations, and a wide variety of spells.
Risk big, win big! Put your Battle Chips where your mouth is, as you wager on the outcome.
10 Arenas to dominate, as well as leagues, competitions and a steady stream of events.
Socialise within Clans and trade cards, or play solo and take on the world alone.
Exceptional strategic combat & quick-fire decision making is at the core of Castle Creeps Battle. Timing is everything! The choice of which troops and spells to play, when you use them and where you place them, will decide the outcome of the battle. We've the experience even more immersive by allowing players to drop their heroes into the midst of the action. Done at the right moment, this can turn the tide of any battle!
What are you waiting for? Join the battle and play today!