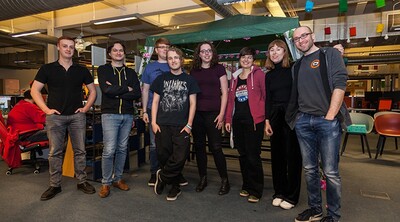 The Instant Games Development Process
It's an exciting time within the mobile games industry, with new platforms and opportunities opening up for developers, both big and small, to bring the next generation of great games to the world! The introduction of Facebook Instant Games is one such development, and our Senior Producer, Wolf, fills us in on the creative process:
"Instant games are born in a whirlwind of creativity. Any and all ideas are welcome and added to a collection of concepts. The core development team leads the charge, but the entire company is invited to contribute. The idea is to crunch through as many ideas as possible within a short time.
This fuels the selection process where we discuss likes & dislikes, and narrow down to a shortlist of finalists that receive additional design & art concepting time. General excitement, technology considerations, platform fit, and of course business viability all play a part in determining the winner.
When you're trying to release a game every 2 months, there's no time to lose and we dive straight into development. Designs get written up, tech foundations are put in place, character & environment & UI art styles are explored. The goal is to get the core game playable as fast as possible so that we can make changes to it, and proceed to dress it up and add supporting features like a tutorial, or multiplayer.
Throughout, we like to do multiple playtests with people from around the office to collect feedback. We learn a lot from seeing new players interact with the game, and their fresh eyes often notice things that we could improve.
As the release date approaches, it's time to clean up the product and fix the many bugs that have crept in over time, making sure the game loads quickly & smoothly for everyone.
Typically we start by releasing in a small number of countries, and ensure everything is running as it should. We also start receiving our first real player data. Do they get stuck in the tutorial? Which levels are they playing? The answers to these questions and more will determine the final changes before releasing it to all countries.
Of course, no new game release is complete without a launch party, with cupcakes and confetti.
As players come rushing in, we continue to monitor how the game is performing and release additional updates to improve the game with things players are asking for.
And with that, away we go to make the next one!"