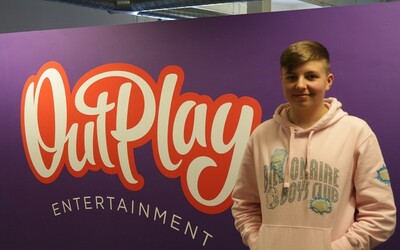 Work Experience With Ciaran
We recently got the pleasure of meeting Ciaran, who joined us for two whole days of work experience.
In his own words, check out what he got up to!
Day 1 at Outplay Entertainment
"My name's Ciaran and for my work experience, I came to Outplay, as when I leave school I would like to have a job in the game's industry. First, I met Richard who told me about his job and asked me a few questions about what I do at school referring to game's design. Richard set me a task to look up different gaming companies on social media and see how they advertise job applications.
Then I moved onto Fraser who was in the marketing area and he showed me what his job was, and he also gave me some advice on what I should do to get into marketing.
After Fraser, I went to Neil who does some of the social media and runs the forums. I also got to see what happens in clans which was really cool. We finished a bit early so Neil, Aaron, (another social media manager) and I could have a chat about different games and it was really cool to see what their ideas were.
It was finally lunch, Elise her friend Hannah went to Dr Noodles and got me food which was delicious and kind of them. Once they got back I sat with them and enjoyed our lunch.
Once lunch was finished, I spent the afternoon with the player support team which was Elise and the people who worked in that department. They showed me what happens when someone sends an email in and what they do to solve it. I also was involved in replying back to an email. Hannah put my FAQ question on one of their game's 'Crafty Candy' which I was so happy about. It was very smart how they solved the problems and for me to see how they did it was amazing."
Day 2 at Outplay Entertainment
"In the morning I met Gav who was in the networking department and he showed me the server room which was cool, he then asked me to watch a few videos on it so I had a better understanding.
Before I left, Gav gave me a lot of tips and software to use if I wanted to start coding at an early stage.
Once it was lunch Elise and I had a nice walk to Tesco and I was asking lots of questions about the company and other things relating to games. At 1.30pm I saw Richard again and he spoke to me in more detail about his job and I told him the information I found from my task.
I want to thank all the people I met on my work experience who were so kind and helpful, giving me all the advice they could give me. I have loved being here as I was welcomed in every way and everyone there was so nice and I couldn't ask for my work experience to be any better.
Also, a huge thanks to Elise for giving me this opportunity to come here and who was so kind and so helpful.
Although it was 2 days I have loved every minute of it and I will treasure this experience forever!"